LIXTE Biotechnology Holdings Announces the Passing of its Founder, John S. Kovach
PASADENA, CA, Oct. 09, 2023 (GLOBE NEWSWIRE) -- LIXTE Biotechnology Holdings, Inc. ("LIXTE" or the "Company") (Nasdaq: LIXT and LIXTW), a clinical stage biotechnology company developing a novel class of cancer therapy called PP2A inhibitors, today announced the passing of its founder and Executive Chairman, John S. Kovach, M.D.

Dr. Kovach, 87, founded the Company in 2005 and held a distinguished medical and scientific career that focused on the causation and treatment of cancer. Dr. Kovach served as LIXTE's President and Chief Executive Officer from 2005 through September 26, 2023. In connection with the Company's management succession plan, Dr. Kovach was succeeded as President and Chief Executive Officer by Bas van der Baan on that date.
From 1994 through 2000, Dr. Kovach was Executive Vice President for Medical and Scientific Affairs at the City of Hope National Medical Center in Duarte, California. Previously, he was a director of the Cancer Pharmacology Division of the Mayo Clinic, in Rochester, Minnesota, where he directed the early clinical trials program for evaluation of new anti-cancer drugs and served as Chair of the Department of Oncology and Director of the NCI-designated Mayo Comprehensive Cancer Center. Dr. Kovach was also a professor at Stony Brook University Medical School, where he founded the Long Island Cancer Center, now named the Stony Brook University Cancer Center.
"The entire LIXTE team mourns the loss of Dr. Kovach and extends deepest sympathies to his family," said Bas van der Baan, the Company's President and Chief Executive Officer. "We will miss his wisdom and will always cherish the remarkable passion he brought to LIXTE. His legacy will continue, as will the Company's mission of improving medical outcomes for patients undergoing various chemotherapies and immunotherapies."
Dr. Kovach received a B.A. (cum laude) from Princeton University and an M.D. (AOA) from the College of Physicians & Surgeons, Columbia University. During his career, he published more than 100 articles on the pharmacology, toxicity and effectiveness of anti-cancer treatments and on the molecular epidemiology of breast cancer.
About LIXTE Biotechnology Holdings, Inc.
LIXTE Biotechnology Holdings, Inc. is a clinical-stage pharmaceutical company developing a new class of cancer therapy called PP2A inhibitors. The Company's innovative approach enhances the efficacy of both chemotherapy and immunotherapy, potentially providing new treatment options for patients. At the core of the Company's therapy is LB-100, the Company's proprietary compound that acts as an inhibitor of the PP2A phosphatase with a favorable toxicity profile. LB-100 promotes the production of neoantigens and cytokines, boosts T-cell proliferation, and disrupts the DNA repair mechanisms of cancer cells, potentially improving treatment outcomes. The Company is conducting multiple clinical trials for solid tumors with unmet medical needs. LIXTE's unique approach has no known competitors and is covered by a comprehensive patent portfolio. Additional information about LIXTE can be obtained at www.lixte.com.
For more information about LIXTE, Contact:
info@lixte.com
General Phone: (631) 830-7092
Investor Phone: (888) 289-5533
or
PondelWilkinson Inc. Investor Relations
pwinvestor@pondel.com
Roger Pondel or Laurie Berman: (310) 279-5980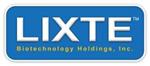 Source: Lixte Biotechnology Holdings, Inc.

Released October 9, 2023