LIXTE Biotechnology Holdings, Inc. Regains Compliance with Nasdaq Continued Listing Requirements
PASADENA, CA, June 23, 2023 (GLOBE NEWSWIRE) -- LIXTE Biotechnology Holdings, Inc. (Nasdaq: LIXT) ("LIXTE" or the "Company") announced today that it has received confirmation from The Nasdaq Stock Market LLC ("Nasdaq") that it has regained compliance with the minimum bid price requirement of $1.00 per share under Nasdaq Listing Rule 5550(a)(2) and currently meets all other applicable criteria for continued listing.

On June 24, 2022, Nasdaq notified LIXTE that its common stock failed to maintain a minimum bid price of $1.00 per share over the previous 30 consecutive trading days as required by the Listing Rules of Nasdaq. In order to address this issue, the Company effected a 1-for-10 reverse stock split of its issued and outstanding shares of common stock on Friday, June 2, 2023, as a result of which the Company's common stock commenced trading on a post-split basis beginning on Monday, June 5, 2023.
About LIXTE Biotechnology Holdings, Inc.
LIXTE Biotechnology Holdings, Inc. is a clinical-stage pharmaceutical company focused on new targets for cancer drug development and developing and commercializing cancer therapies. LIXTE has achieved a breakthrough demonstrating that its first-in-class lead clinical PP2A inhibitor, LB-100, is well-tolerated in cancer patients at doses associated with anti-cancer activity. Based on extensive published preclinical data (see www.lixte.com), LB-100 has the potential to significantly improve outcomes for patients undergoing various chemotherapies or immunotherapies. LIXTE's new approach has no known competitors and is covered by a comprehensive patent portfolio. Initial proof-of-concept clinical trials are in progress.
For more information about LIXTE, contact:
info@lixte.com
General Phone: (631) 830-7092; Investor Phone: (888) 289-5533
or
PondelWilkinson Inc. Investor Relations
pwinvestor@pondel.com
Roger Pondel: (310) 279-5965; Laurie Berman: (310) 279-5962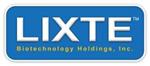 Source: Lixte Biotechnology Holdings, Inc.

Released June 23, 2023